Welcome
In this issue we will share essential news, top tips, resources and what we have been doing recently, to help improve your Digital Teaching, Learning, and Assessment practice.
---
Essential News
Digital Learning drop-in sessions
The digital Learning team is launching a programme of drop-in sessions, each focused on a specific technology. The sessions, based in H102 in the library, will follow a rolling schedule at different times to maximise the opportunity for people to attend the different sessions. So no need to book just bring your laptops and drop in.
The schedule is subject to change so please follow this link to check the schedule before dropping in.
Stream Videos Update
Now we are using the new Stream (on SharePoint), we needed to examine how we upload and share videos as the process has changed. If you are wanting to embed your videos to LearnZone in particular, head over to our blog to find out more information.
---
Top Tip
Polls in Teams for quick and effective formative assessment
Microsoft has been making updates to Forms within Teams and the app itself.
Find out more about Polls here.
PHET Simulations
Passed on by a teacher wanting to share a great resource, Phet offers interactive simulations for Physics, Chemistry, Biology, Earth Science & Maths all of which are free for teachers to make use of with their students.
---
What's Happening
Tech for T-Level Business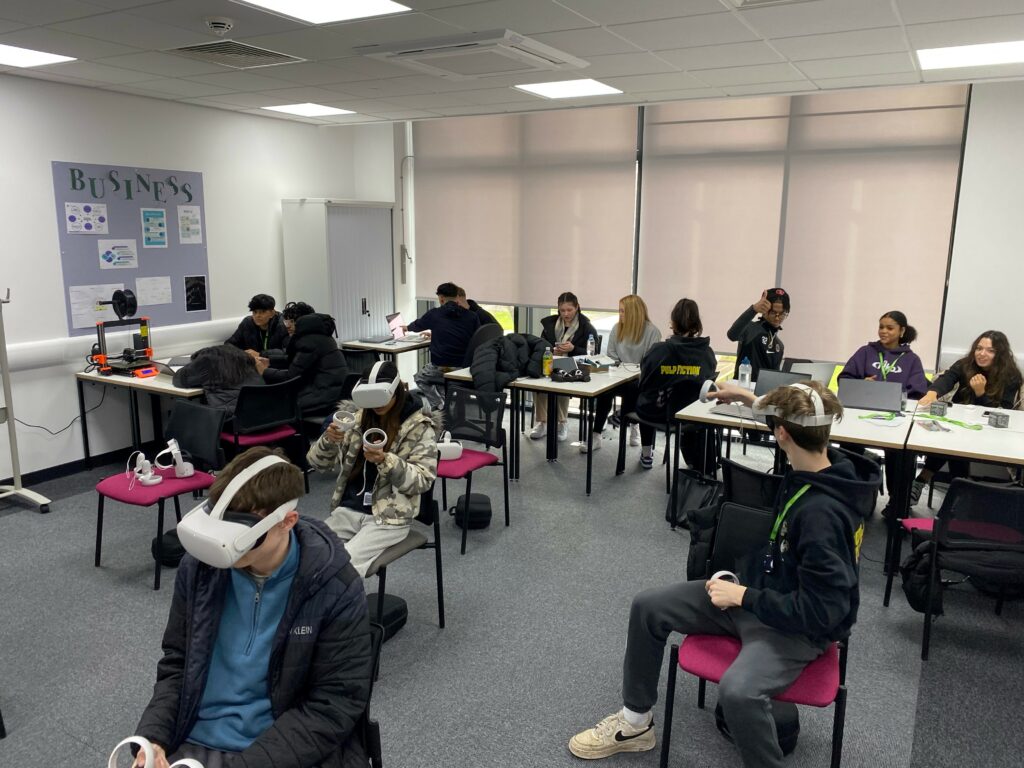 Working with Mohammed Mangera to create a lesson for his T-Level Business context unit.
The specification identifies that students need to examine technologies specifically VR, AR, 3D Printing, and AI to identify how they could affect how industries operate.
To give students real-world experiences of these different technologies we set up 4 stations using our Oculus Quest, Merge cubes, Prusa 3D Printer, and a PC connected to ChatGPT. In groups, students rotated around the stations examining each technology. They were encouraged to think about and discuss the impact that the technology has had and could have within the business sector they intended to join. Alongside this discussion, they were given a short research task using their Microsoft Class OneNote to share their findings for further collaboration later in their course.
VR in education
As part of our continuing commitment to support the curriculum embedding digital technologies in TLA, the Digital Learning Team introduced even more staff into the world of VR. Working with the HE Sports team and the Hair and Beauty team we hosted two VR training sessions for the teams to test it out and get them thinking how they could use it with their students.
If you or your team are interested in how VR could be beneficial to teaching and learning or know of an app you want to try with your groups don't hesitate to get in contact, we can investigate the app and set up a practice session with teachers.
2022 Graduation Ceremony Streamed Live on YouTube
In light of the death of Her Majesty Queen Elizabeth II, the class of 2022 graduation ceremony was postponed until January. To ensure that any of the graduates' families and friends who were unable to attend the event in person could still be a part of the celebrations the event was streamed live on YouTube. The event was simultaneously screened on the college's TV noticeboards for the whole college to celebrate the success of our students. If you would like to watch any of it back you can find the Playlist of ceremonies here.
---
Help and Support