Miro is a creative online collaborative whiteboard platform that enables teams to work effectively together, from brainstorming with digital sticky notes to planning and managing workflows. Miro can be used as an alternative to other Whiteboard apps available and OneNote for its collaborative features.
We have been in contact with the cutting-edge Games Development department which is following the industry in using Miro in their teaching and learning. After having meetings with Nextgen (awarding body for one of the Games Development courses) the games team saw in action how Miro is being used in the industry for planning, organising, and collaborating on projects so quickly adopted the software for use with their students with fantastic results.
Case Study
Curriculum Manager Tony Lowis had this to say…
We use Miro as it's an amazing free and easy to use collaborative whiteboard tool. Our learners each have their own boards where they can upload work for each of their classes and for their assessments making it very easy for staff to access and track their progress. As staff, we've found that it saves us from having to check multiple different documents over Teams or email that learners send in, which cuts down on the workload.
The learners are enjoying it as they can be creative in personalising their own boards but it's also a big confidence builder. They can easily scroll through their first pieces of practical work to where they are now and see that growth.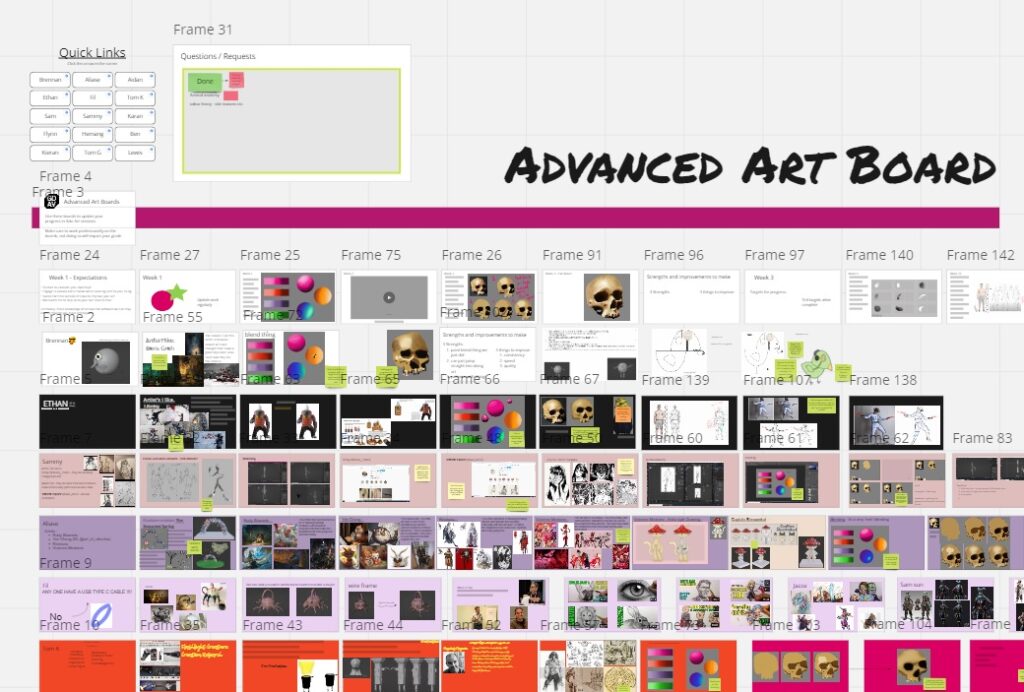 This is the board for my Advanced Art class. Here I have uploaded lesson content including images, slideshows, and videos. We can leave feedback for learners easily too as can be seen by the green sticky notes. This is very useful for capturing the verbal feedback that happens in class.
Find out more
If Miro seems like it could work for you and your learners you can find out more by watching the videos within the playlist below:
---
Help and Support