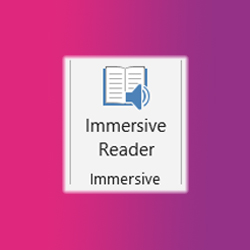 Found under the View Ribbon Immersive Reader is a feature that presents a document in an easier format and can even read it aloud. The immersive reader is most effective when used within the Office 365 online version of apps with some limited features available in desktop applications.
Immersive Reader can read your text aloud by word or document with text to speech. You can change the speed, sound, and even the language of the reading voice.
To suit your visual preferences you can easily adjust the formatting of the text including; column width, page, and font colour, text spacing and font size. You also break up words into Syllables and have different parts of speech; Nouns, Verbs, Adjectives and Adverbs, highlighted in different colours.
The line focus feature can be used to limit the number of lines of text that are showing like a reading ruler. With Picture Dictionary if you click certain words it will show a picture. You can also change the language, either by word or full document by using Translate.
The Immersive reader flexibility and customizable features really help to make a document accessible as well as improving reading skills. Why not check out this 'How to use the Immersive Reader' Microsoft training video below to find out more:
We recommend completing this walk-through guide created by Microsoft to fully get grips with the Immersive Reader.
If you have any questions contact the Digital Learning Team at: digitallearning@loucoll.ac.uk and don't forget to check our blog again tomorrow for the next instalment in our Accessibility bite size blog series.