What is a 'Forum' activity?
The forum activity allows teachers and students to exchange ideas by posting comments as part of a 'thread'. Files such as images and media may be included in forum posts if this setting has been enabled. The teacher can choose to grade and/or rate forum posts and it is also possible to give students permission to rate each other's posts.
Why use the 'Forum' activity?
In normal times, teachers may wish to enhance teaching and learning in a more blended learning mode in order to supplement classroom-based education. However, being forced to operate classes online has presented an opportunity to refine our skills with technology to improve learning at a distance.
Research has clearly demonstrated that the use of technology could encourage more independent and active learning among students. Our LearnZone has two tools for creating a forum activity called 'Forum' and 'Open Forum' which could yield many benefits for you and your students.
Types of LearnZone forum activities
You will discover that a number of different types of forum can be added to courses on LearnZone. These are:
Standard forum for general use
Single, simple discussion
Question and Answer forum
Standard forum displayed in a blog-like format
Each person posts one discussion
Potential benefits
Here are some potential benefits of regular online forum participation according to Pavlina (2005):
Intellectual exchange
Learning new ideas and refining old ones
Enjoying community membership
Influencing the forum's evolution
Contributing to others
Making new friends and contacts
New business leads
Keeping up with current events
Learning about new opportunities
The Characteristics of a Good Online Forum
According to Martyn (2005), there are numerous characteristics of a good online forum. These are:
Require students to participate
Grade student efforts
Involve learning teams
Structure discussion
Require a hand in assignment
Learners use their own experience in posing questions and scenarios
Relate the discussion to course objectives
Qing Li (2004) also provided a further nine elements of a good online forum in her research. These are:
Establish a friendly, open environment
Use authentic tasks and topics
Emphasize learner-centred instruction
Encourage students to give constructive feedback and suggestions
Let students experience, reflect and share the benefit of using threaded discussion
Be sure that instructors facilitate collaboration and knowledge building
Encourage dialogue and referencing of other student postings
Use humour for motivation
Use emoticons to help convey ideas and feelings
Forums in Sport FE
Spencer Oakes has been using the LearnZone activity with students studying Level 3 Sport and Exercise Science. The screen capture below highlights what type of forum activity has been created to support teaching and learning. He has also provided a brief summary of the advantages and disadvantages below.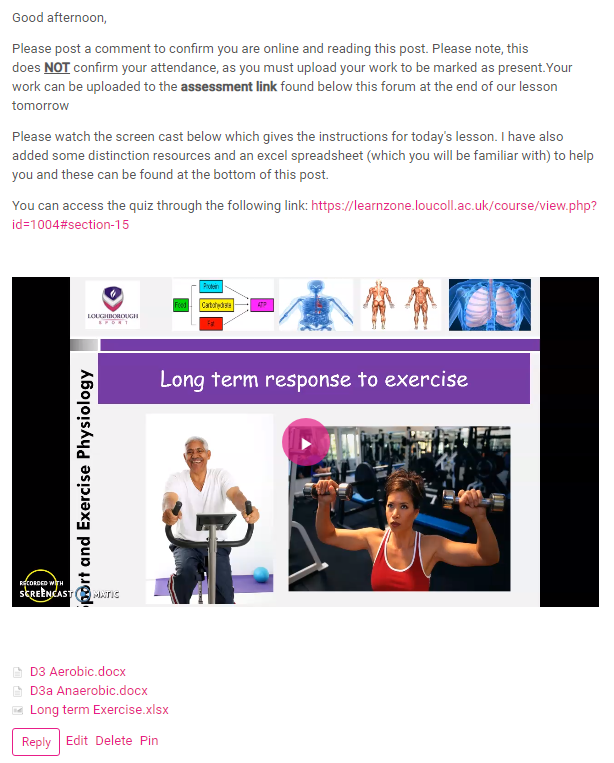 Advantages
It provides a good starting point for the delivery of an online lesson with all the resources in one place and the students logging in to the forum, which has acted as a register.
Students can post questions on the forum and this has saved time in terms of not having to constantly respond to the same email.
Disadvantages
The forum activity on LearnZone has limitations in the number of resources that can be uploaded at the same time.
To see which students have been engaging with the forum requires you to periodically refresh the page.
There are many good reasons to use forum activities as part of your everyday teaching and learning. Why not complete our training course linked below and develop a forum for us with your own classes.
Training and Further Guidance
You can access bespoke online training on the Staff eLearning Guidance & Support area on LearnZone. Everything you require to get started will be covered by taking this course. You can contact eLearning on elearning@loucoll.ac.uk or by joining our eLearning Team on Microsoft Teams.
References
Martyn M.A. 2005. Using Interactions in Online discussion Forums. Educause Quarterly No.4
Qing Li. 2004. Knowledge Building Community: Keys for Using Online Forums Volume 48, Number 4
Kaur, M. 2011. [Online] http://www.inquiriesjournal.com/articles/414/using-online-forums-in-language-learning-and-education