Introduction
Several curriculum areas across Loughborough College have discovered Microsoft Stream and have adopted this technology as part of everyday teaching, learning and assessment. Public Services and Sport have both been sharing good practice with eLearning on how they have been using Stream mainly to enable learners to record videos for use as evidence. However, they have also been using Stream to host online learning materials, enable peer assessment and much more.
What is Microsoft Stream?
Microsoft Stream is accessible to everyone at Loughborough College as part of the Office 365 software suite. It offers an online video hosting service not unlike YouTube.
Microsoft Stream makes it easy to:
share videos securely
embed into LearnZone
add comments and feedback
add transcripts
add MS Forms within the timeline
tag and feedback on specific points in a video
Features available make this software ideal for:
teaching materials
assessment evidence
peer assessment
self assessment
Moreover, Stream is suitable for a wide range of teaching, learning and assessment activities that make it ideal for integration with a flipped learning mode of operation. These features are:
lecture capture
assessment evidence
practical demonstrations
role play
learner presentations
practical assessments
reflective journals
meetings
lesson observations
any other videos that aid your colleagues' or students' progress or collaboration.
Stream for Assessment
Public Services FE & HE
Public Services have recently been trialing the use of Microsoft Stream, and Tim has reported back several benefits for lecturers and students.
The team have used this to:
assess stop and search procedures through role play
evidence research and knowledge of government policy as a vlog or presentation
simulate a drugs raid briefing to evidence applied knowledge
In particular, Tim recounted lessons where learners have used Stream to record high-quality evidence using their own smart devices to submit in their assessments. As a result, learners have less written work to produce overall.
Tim also went on to say that most learners have engaged well using this method as it provides an alternative means for demonstrating greater detail knowledge, skills and understanding. He also explained that this can often suit the types of learners currently studying for our qualifications and makes it much easier for lecturers to access evidence for use in assessments.
I have found Microsoft Stream to be a really good platform for students to upload videos and then, as a lecturer I found them more accessible to watch and mark.

Fiona Strang (Public Services Teacher)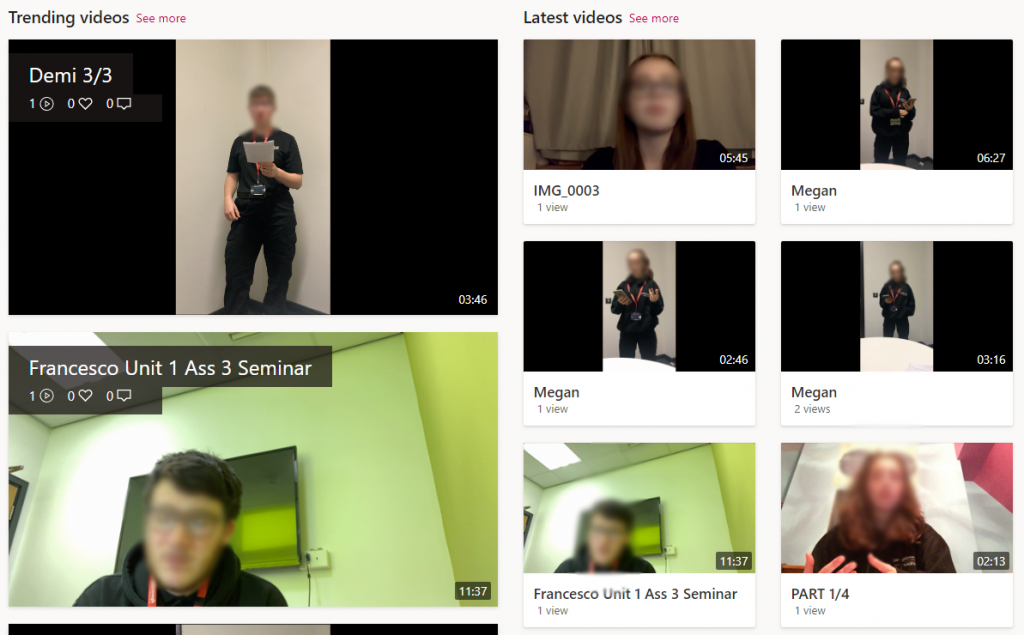 As part of the assessment process, Public Services have created a series of groups within Stream that mirror teaching groups. Each group can have any number of channels to sub-categorise the content. Each group is only available to specific lecturers and their learners within the group. With permissions, learners can use their own mobile devices to record and upload evidence to any channels created within the group. Once uploaded, lecturers provide appropriate feedback.
The idea of using Microsoft Stream is good. I liked the process of talking about your work in greater detail.

Thomas Jarvis (Level 3 Public Services student)
Once all videos are safely uploaded it is possible to remove student access in order to prevent them from deleting any evidence which may be required for internal verification or external moderation.
Sport FE
Ian Blakemore has also been using Microsoft Stream over the current academic year with a similar purpose in mind to Public Services. Ian said the main reason he started using Stream was to enable students to upload captured video evidence for assessments.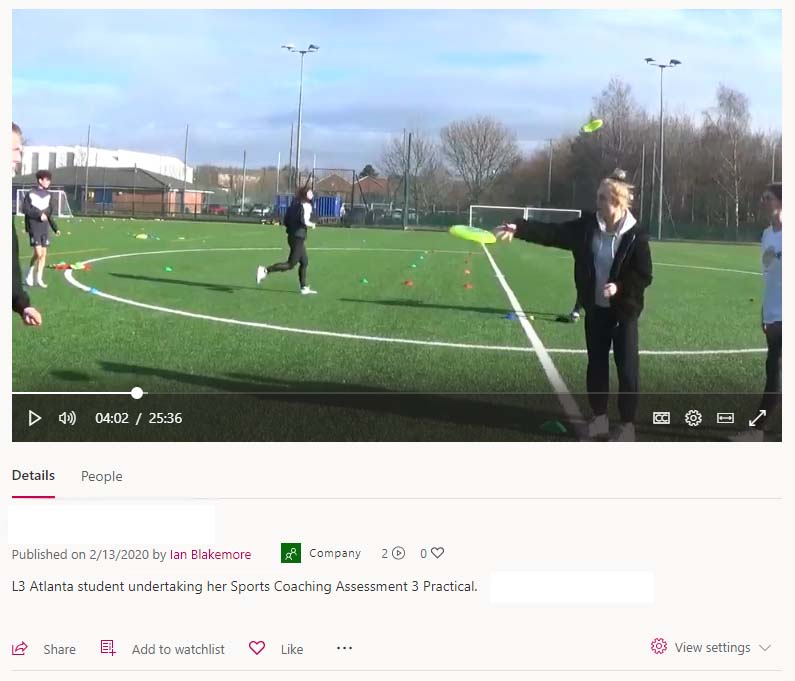 Ian explained that using video-based evidence provides a solid base of facts for students to use when reflecting and reviewing their performance and that of others. He also revealed that as a result of using this technology, the quality of work had improved significantly, as learners were able to produce work from a more objective viewpoint, as opposed to subjective. Students also benefit as they see actual events as they happened, rather than as they might have remembered them. The use of videos has enabled learners to refresh their memory again and again by re-watching the video and then they are guided through a self-assessment using Microsoft Forms.
The quality of feedback has improved significantly, and has become much more objective than subjective.

Ian Blakemore (2020)
To facilitate his use of Microsoft Stream in teaching and learning, Ian has created instructions for students on how to upload their videos to the channel he has created. The process is only marginally different from the one that is used by Public Services.
First of all, he creates a group, and then he creates the channels for a particular assessment. Students then upload the videos via the Stream App or the Office 365 online interface directly from a mobile device. To make sure learners' videos can be easily located, he has taught his students to tag their videos with the targeted groups and/or channel.
As the student is the sole owner of the content and will remain in editorial control, any video uploaded by them will be hosted under their account and they could remove the content at any time.
Ian was still learning the full range of benefits associated with using this technology but was keen to experience that acquiring evidence in this way is significantly more time economical and helps to boost the amount of information that can be extracted from the evidence. This is because students can watch the video repeatedly to review different aspects of the skills, knowledge and understanding being mastered.
As with most internet-based technology, Ian and his students are at the mercy of a good WIFI signal so video capture can be uploaded quickly and smoothly. Despite some minor drawbacks that can be easily mitigated, it works, and works well overall. Ian has been sharing this excellent use of technology across the Sport curriculum area and this been adopted by other members of the team who are reaping the same benefits and rewards.
Ian was keen to further explore the potential of using video and Microsoft Stream and in particular he wanted to add more comments on the videos. This feature provides the perfect platform for AfL, as it enables users to give commentary on the content to provide self, peer and formative feedback. For more private formative and summative assessment, we discussed using LearnZone and Turnitin, where students can get a share link to the video and then upload it to LearnZone where it can be formally assessed using the Assignment or Turnitin activity and any feedback or grading can then remain private.
Stream for teaching
Public Services FE & HE
Tim has also been using Stream in modules taught in HE, by embedding videos of expert interviews from Stream in HELearnZone where students get an excellent first hand account, from people who experienced working on the ground in disaster zones around the world.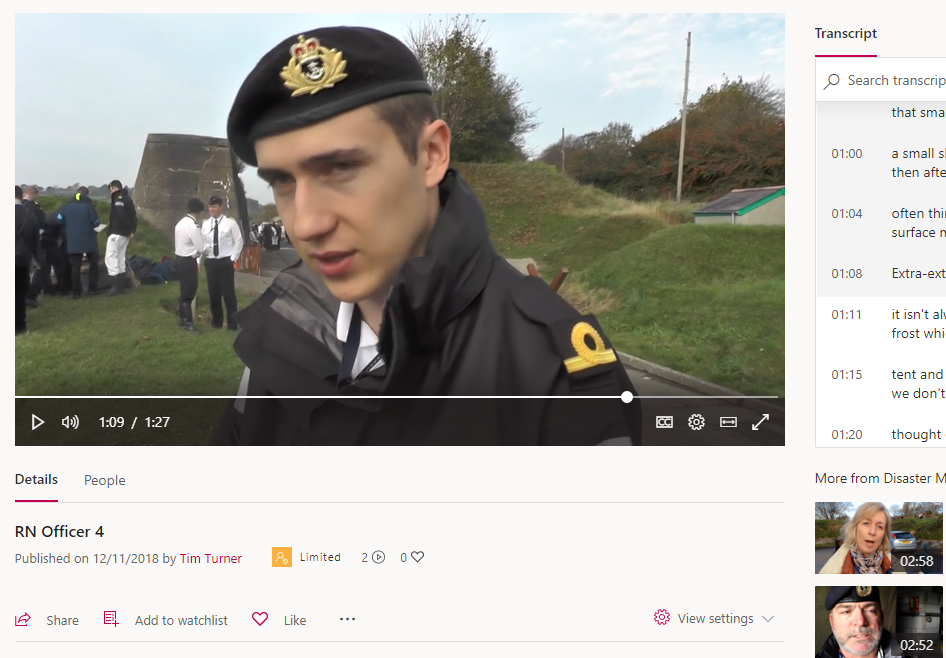 Summary
In summary, Microsoft Stream is being adopted by users across Loughborough College and has a clear place within modern teaching pedagogy, either in the classroom or as part of a blended model.
Videos can be easily shared between authorized users for internal verification and external moderation for a range of assessment and teaching methods.
Stream has transformed the way we capture evidence for our BTEC qualifications!

Tim Turner (2020) – Programme Area Lead for Public Services
Pros
Reduces written evidence
Easy to share and embed content
Close caption options
Easy to add self and peer assessment commentary
Easy Yammer integration
Integration with Microsoft Forms to add surveys, quizzes, or polls
Group and channel tagging
Has the feature to be able to trim video
Acts as an additional evidence backup
Face detection feature
Trending videos
Cons
Some issues with weak WiFi signal on the fringes or outside the network
Automatically detected closed captions vary in accuracy
No facility to edit videos or add text to the video itself
Students sometimes need basic training
Additional recommendations
So the message is clear, explore the possibilities, adopt and embed in your pedagogy and lead others to share in your success. Stream has significant potential in teaching, learning and assessment for both lecturers and learners.
Lecturers seeking to add greater interactivity in their online curriculum are using Stream alongside Microsoft Forms to create powerful and engaging resources. One or multiple forms can be added to the timeline of any video to create assessment check points throughout, which then has the capability to collect assessment data on progress for lecturers.
Students can also combine both Forms and Stream to create more structured opportunities for peer assessments to collect data to analyse for research projects.
If you need support, inspiration or just a quick overview, please don't hesitate to contact the eLearning Team in L117. Call us on 6254 or email the helpdesk at elearning@loucoll.ac.uk
Sources